 Taste You'll Love
Made With Quality Ingredients
Over 23,000 People
Can't Be Wrong....

Our HighKey delicious cookies have zero added sugar and more than 23,000 5-star reviews. You could say we're the internet's favorite cookie.

We know what you're thinking right now: How can a cookie with no added sugar taste so good?

We'd tell you, but we are kind of biased since we are eating them all the time!

All kidding aside, our bite-sized cookies are crunchy and sweet without the cheat.

• 0g of sugar
• 1g of net carbs
• 3g of protein
• 100g of awesome

The only question you should really be asking yourself is "holy chip, why haven't I tried these already?"


We'll start by sending you a 3 pack of our most popular Mini Cookie Flavor, Chocolate Chip.

A week after your trial pack delivers, you'll get a notification from us about your first shipment. The default is a 9 pack of Chocolate Chip (our top flavor) but you can respond to change flavors or cancel altogether.

Every month, we'll text you before each order to change flavors or skip as needed. You'll enjoy 10% off each delivery and we'll arrive at your door looking like a snack.
It all started with a cookie craving.
Our co-founder, AJ Patel, is a self-admitted, recovering sugarholic. A few years ago, he decided to cut back on his own sugar consumption and WHOA…it was hard.

He tried a ton of different low sugar and low carb alternatives that were out there and honestly, he thought they tasted awful. #sorrynotsorry

Being the serial entrepreneur he is, he said, "fudge it!" and set out to make an amazing Chocolate Chip Cookie that would satisfy his sweet tooth and didn't use sugar or wheat-based flour.

When he joined forces with our resident food wizard John Gibb, it was a match made in foodie heaven. John did the farm-to-table, James Beard Award-winning restaurant thing before it was cool.

Together, they developed our delicious, #1 selling Chocolate Chip Mini Cookies that practically broke the internet when they launched.

Now, they've formed a team of foodies, food scientists and some people who are really, really good at using spreadsheets to bring our HighKey awesome snacks to the masses.

We're committed to changing the way America eats by removing sugar from our favorite foods: one craving at a time.

Sugar is canceled. HighKey deliciousness is in.

"Warning: deliciously addicting! Ordered this and others and loved them all. I let my mom try one and she just took the whole bag from me and told me to order more!"

"Bought a sample pack of several different mini cookies after seeing an ad on Facebook and while all were good, the chocolate chip cookies are amazing! Love having a low carb chocolate chip cookie option. Glad I took a chance on ordering them! Will be reordering."

MINI COOKIES: CHOCOLATE CHIP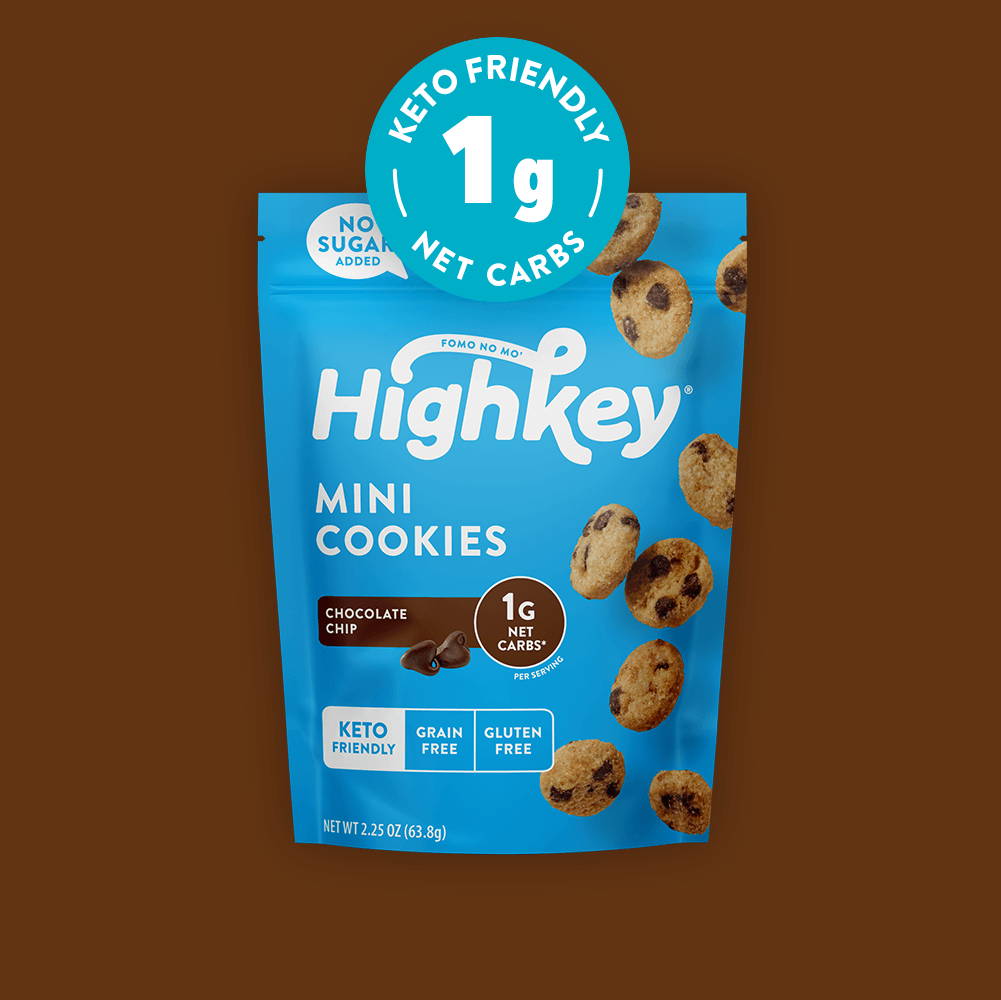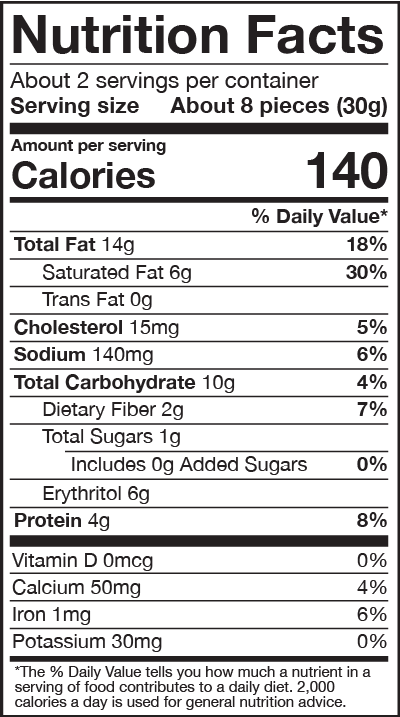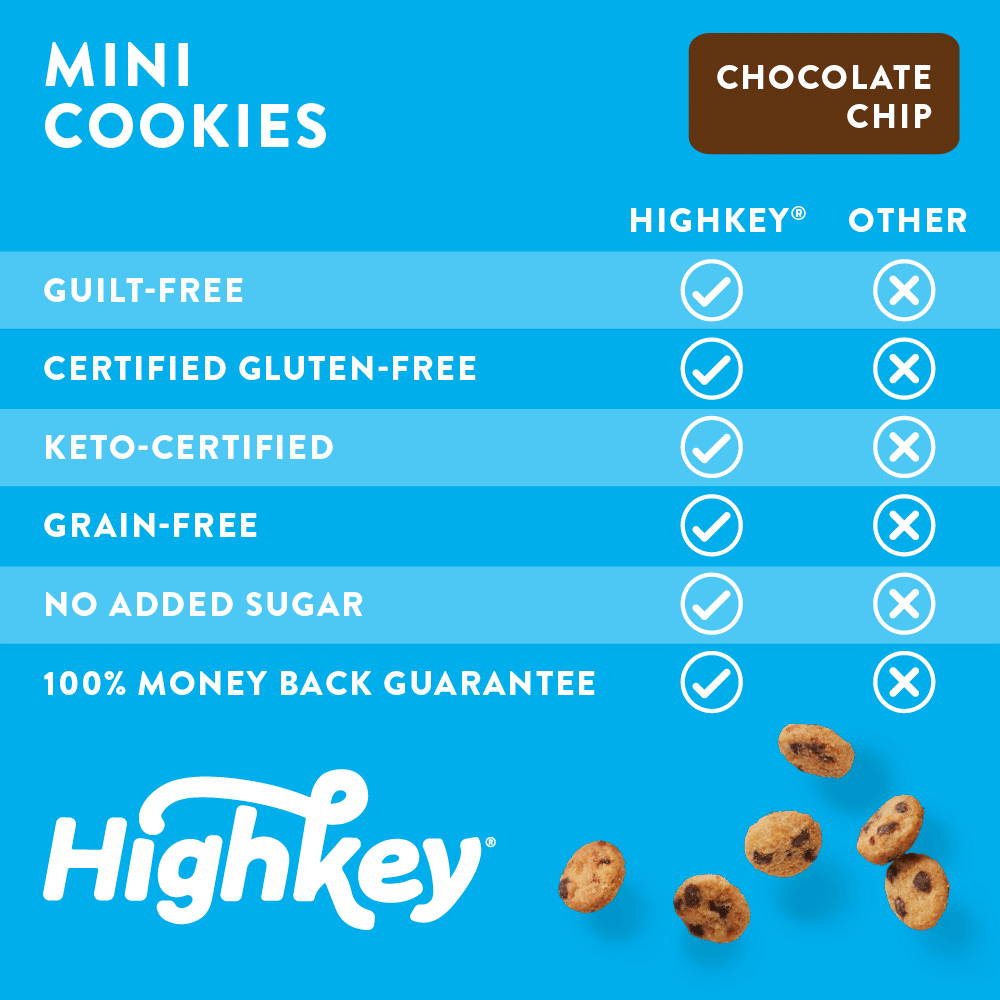 Ingredients
Almond Flour, Natural Sweetener [Erythritol, Monk Fruit Extract (Mogroside V), Stevia Extract (Steviol Glycosides)], Chocolate Chips (Unsweetened Chocolate, Erythritol, Cocoa Butter, Stevia Extract, Sunflower Lecithin), Coconut Oil, Butter [Cream (Milk), Salt], Prebiotic Fiber, Dried Eggs, Vanilla Extract, Baking Powder, Hydrolyzed Collagen, Sea Salt, Xanthan Gum, Guar Gum.
Contains: Eggs, Milk, Almonds
*Net carbs are calculated by subtracting total fiber and erythritol from total carbohydrates.