FULL OF FLAVOR,
NOT SUGAR
Our Plant-Based Protein Cereal is vegan-friendly and keto-friendly, with a crunchy texture and that childhood taste you crave. Go ahead: ditch the sugar buzz, banish cravings, and dig into cereal again.
Save Now
COCOA
FROSTED
FRUITY
WHY YOU SHOULD TRY IT
Whether you are plant-forward, plant-full or just plant-out-thinking about it, we all need a variety of nutrients in our diets. Incorporating this delicious bowl of cereal into your routine is a great way to shake things up.
16g
Protein
NO
ADDED
SUGAR
Low
Carb
Gluten
Free
Keto
Friendly
100%
MONEY
BACK
Breakfast For Under $1.25?!
$1.12 Per Bowl
With 10% Off
$1.06 Per Bowl 1st
Subscribe & Save
Plant-Based CEREAL - Carbs + Protein = Highkey Delicious
Choc Full Of Flavor, Not Sugar
You could say we're going COCOA for our newest breakfast goodie that's so yum you'd think it's dessert! Each serving packs a punch with 16 cereal-ously delish grams of protein, 4 grams of net carbs, and less than 1 gram of sugar.
FROSTED & CRUNCHY
We like our cereal like all the 90's boy bands liked their hair: FROSTED (and crunchy). Our Frosted Plant-Based Protein Cereal is vegan-friendly and keto-friendly, with a crunchy texture and that childhood taste you crave - minus all those artificial colors and flavors.
Do you know what's bananas?
That the leading fruity cereal brand has 12g of added sugar. Our Fruity Plant-Based Protein Cereal has 0. Because #HighKeyDelicious snacks are filled with flavor, not sugar...and that's the way we think it should be.
Quality Ingredients? We're kind of obsessed.
Coconut Oil
Coconut oil can help you get your body into ketosis. The fats are rapidly absorbed directly to the liver, where it can be used immediately for energy or converted into ketones.
Sweetener Blend
Our proprietary blends are made with only simple, clean ingredients. They're zero calories, keto-friendly, non-GMO and low on the glycemic index.
Oat Fiber
A delightful ingredient with zero calories, zero carbs, zero sugar. Oat Fiber can help you stick to your low carb diet by adding bulk to foods when sugar is removed.
Rice Flour
Rice flour is an excellent source of fiber and is also gluten-free.
PLANT-BASED PROTEIN CEREAL: FRUITY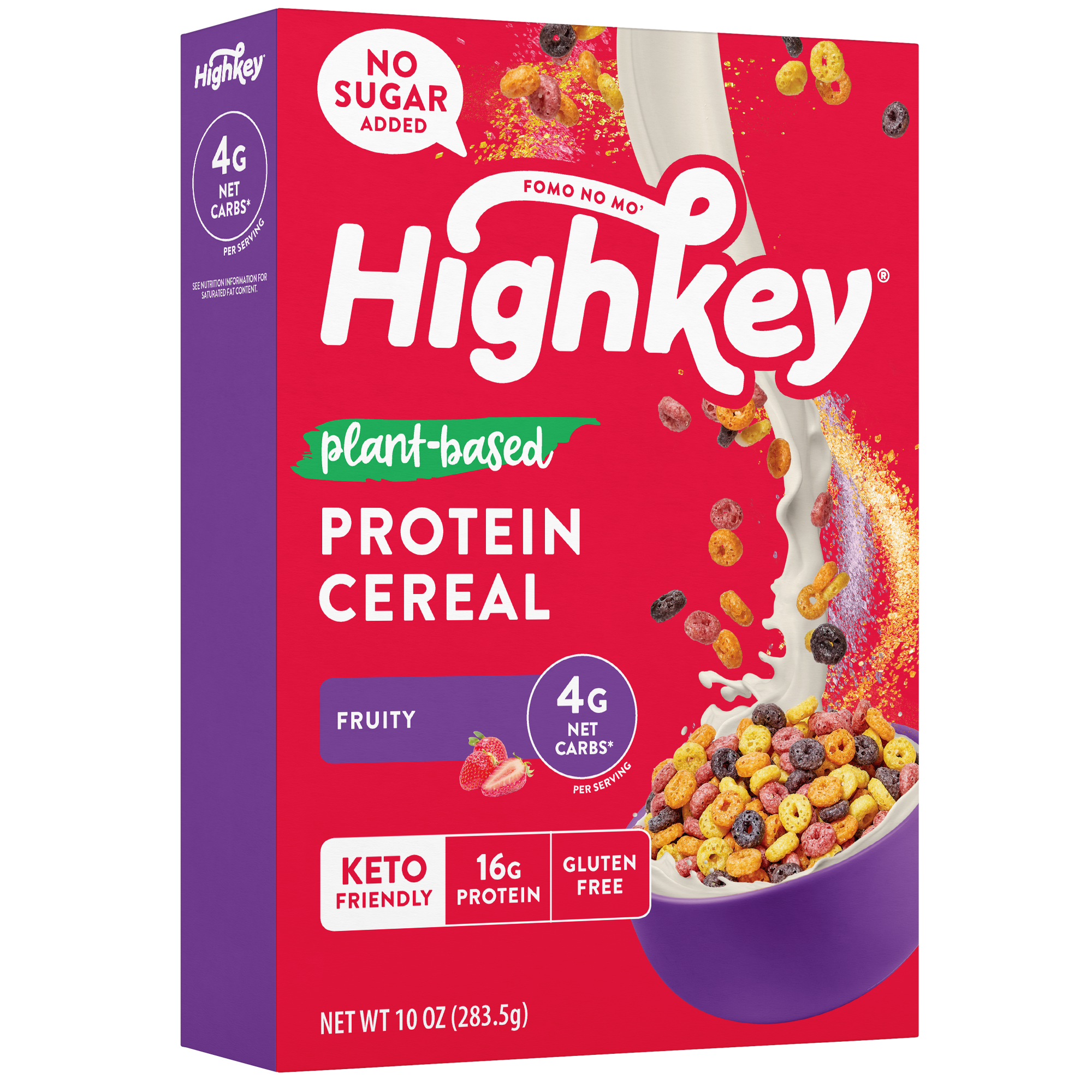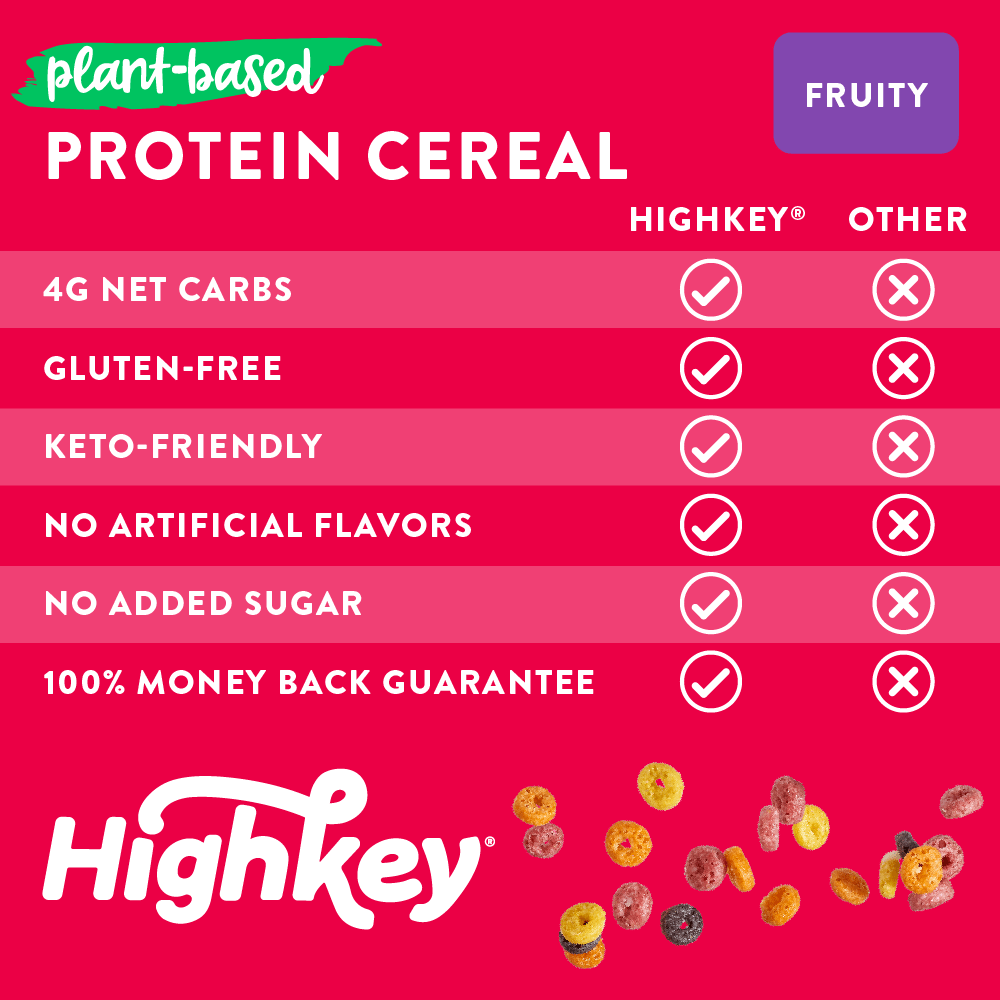 Ingredients
Soy Protein Isolate, Coconut Oil, Erythritol, Rice Flour, Inulin (from Chicory Root), Oat Fiber, Fruity and Vegetable Concentrate (color), Salt, Natural Flavors, Vitamin E (mixed tocopherols to preserve freshness), Soy Lecithin, Reb A, Turmeric Concentrate (color).
Contains: Soy and Coconut
*Net carbs are calculated by subtracting total fiber and erythritol from total carbohydrates.
PLANT-BASED PROTEIN CEREAL: COCOA
PLANT-BASED PROTEIN CEREAL: FROSTED