Cancel Sugar,
Not cookies
Our HighKey delicious cookies have zero added sugar and more than 23,000
5-star reviews. You could say we're the internet's favorite cookie.
So delicious, it's suspicious.
We know what you're thinking right now:
How can a cookie with no added sugar taste so good?
We'd tell you, but we are kind of biased since we are eating them all the time!
All kidding aside, our bite-sized cookies are crunchy and sweet without the cheat.
• 0g of sugar
• 1g of net carbs
• 3g of protein
• 100g of awesome
The only question you should really be asking yourself is "holy chip, why haven't I tried these already?"
Try Now
#SugarPanda
LIMITED-TIME OFFER:
The internet's favorite cookie
Mini Cookies
Chocolate Chip
Try our best-selling cookie
BUNDLE.
➜ Mini Cookies 6 PACKS:
Chocolate Chip
BUNDLE.

➜ FREE SHIPPING
Save $6.57
$34.51 $25.15
100% Money-Back Guarantee
SAVE 20% + FREE Shipping
HighKey Sampler Bundle
ALL BEST SELLERS. ONE BUNDLE.

➜ Mini Cookies 3 Packs:
Chocolate Chip
Snickerdoodle
Double Chocolate Brownie

➜ Caramel Clusters 6 Pack:
Milk Chocolate Pecan
BUNDLE.

➜ FREE SHIPPING
Save $6.57
$62.95 $42.96
100% Money-Back Guarantee
"The flavor, shockingly, can rival your favorite packaged chocolate chip cookies from your childhood & even has that signature crispiness."
"The TODAY team found them to be a delicious option for anyone looking to cut carbs."
"When you really want that chocolate chip cookie, this low-carb version is a satisfying alternative."
"This highly-rated treat is low in net carbs and sugar, and both gluten- and grain-free."
Don't Take it From Us
"Omg these are amazing Grabbed snickerdoodle and chocolate chip. And was shocked! Real cookies!! They are tiny, but omg REAL cookies!!! Will definitely be picking these up again! Did I mention real cookies!! Woohoo!"
"Holy wow!! I seriously thought these cookies HAD to be over hyped, boy was I wrong. AMAZING-INCREDIBLE- STUPENDOUS!!!"
"Clusters are awesome! These clusters are even more delicious than ones with sugar in them. I can eat these guilt free!"
"Warning: deliciously addicting Ordered this and others and loved them all. I let my mom try one and she just took the whole bag from me and told me to order more!"
"Your cookies are bomb 5star!!! Love all your cookies!!! They are amazing!! I tried the vanilla, lemon , peanut butter, snickerdoodle all very bomb good!!"
"Again!!!! You guys have done it again!!! These are off the chain gooooooood!"
"Best Yet! OMG, these are the best. Each bite is terrific."
"So yummy! Don't taste "healthy"!! Snickerdoodle Mini Cookies are amazing! Seriously, they are so yummy that they don't taste 'healthy' or grainy. The Double Chocolate Brownie Mini Cookies are my second fav. Do yourself a favor and try these!"
We're better for you, but sure don't taste like it. What's inside:
Almond Flour
Almond flour is an ideal alternative for a gluten-free lifestyle. It's high in protein, manganese, vitamin E, and monounsaturated fats. It's also low-carb and contains fiber!
Coconut Oil
Coconut oil can help you get your body into ketosis. The fats are rapidly absorbed directly to the liver, where it can be used immediately for energy or converted into ketones.
Collagen
A naturally carb-free protein that provides the body with many essential amino acids.
Sweetener Blend
Our proprietary blends are made with only simple, clean ingredients. They're zero calories, keto-friendly, non-GMO and low on the glycemic index.
MCT Oil
MCT's come from coconuts and give a quick source of energy.
MINI COOKIES: CHOCOLATE CHIP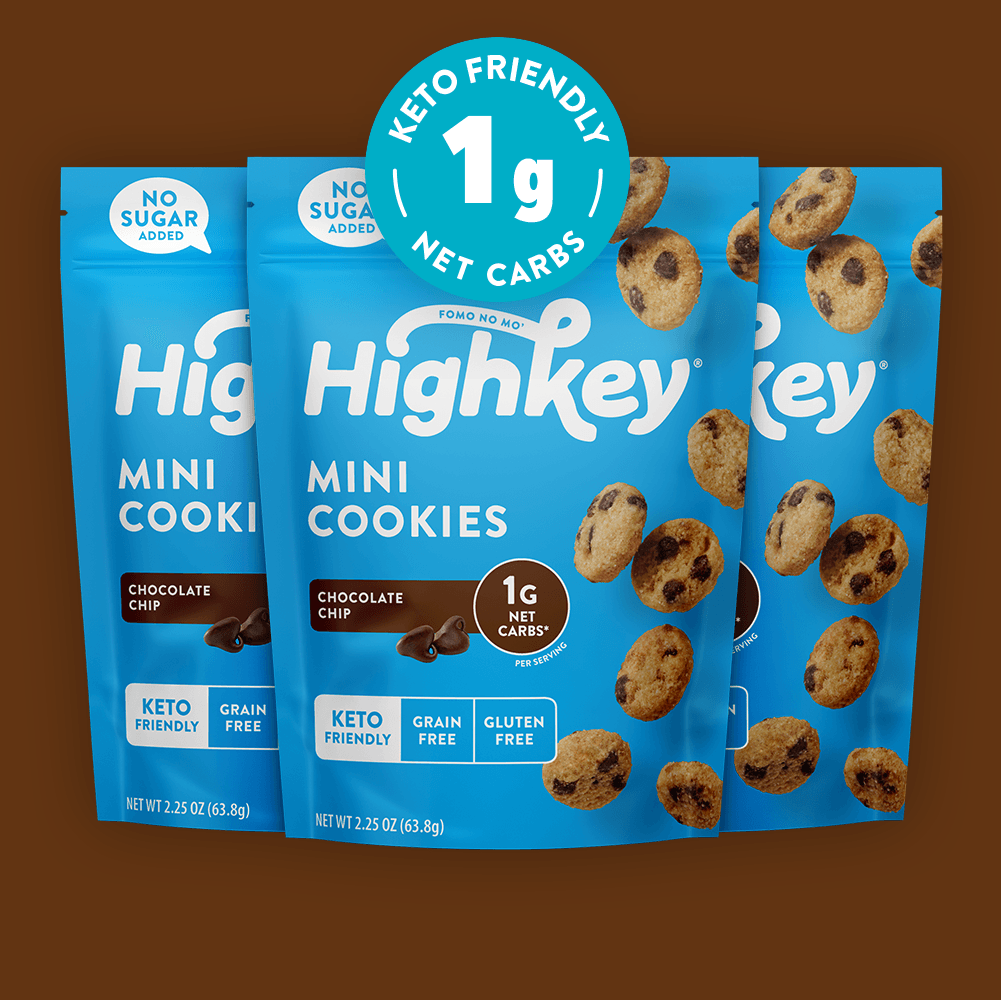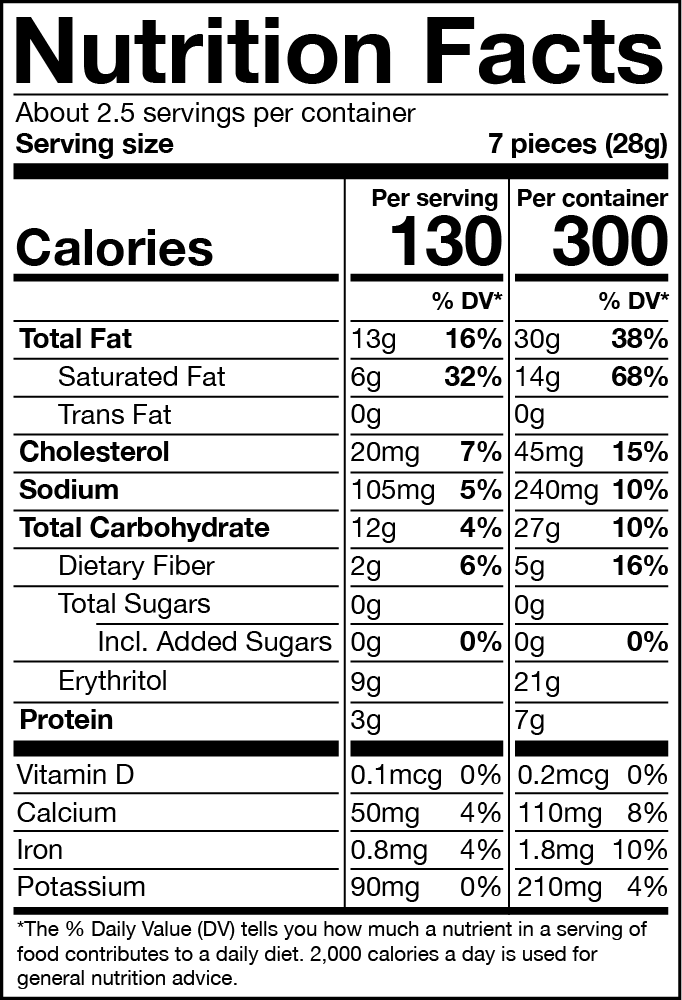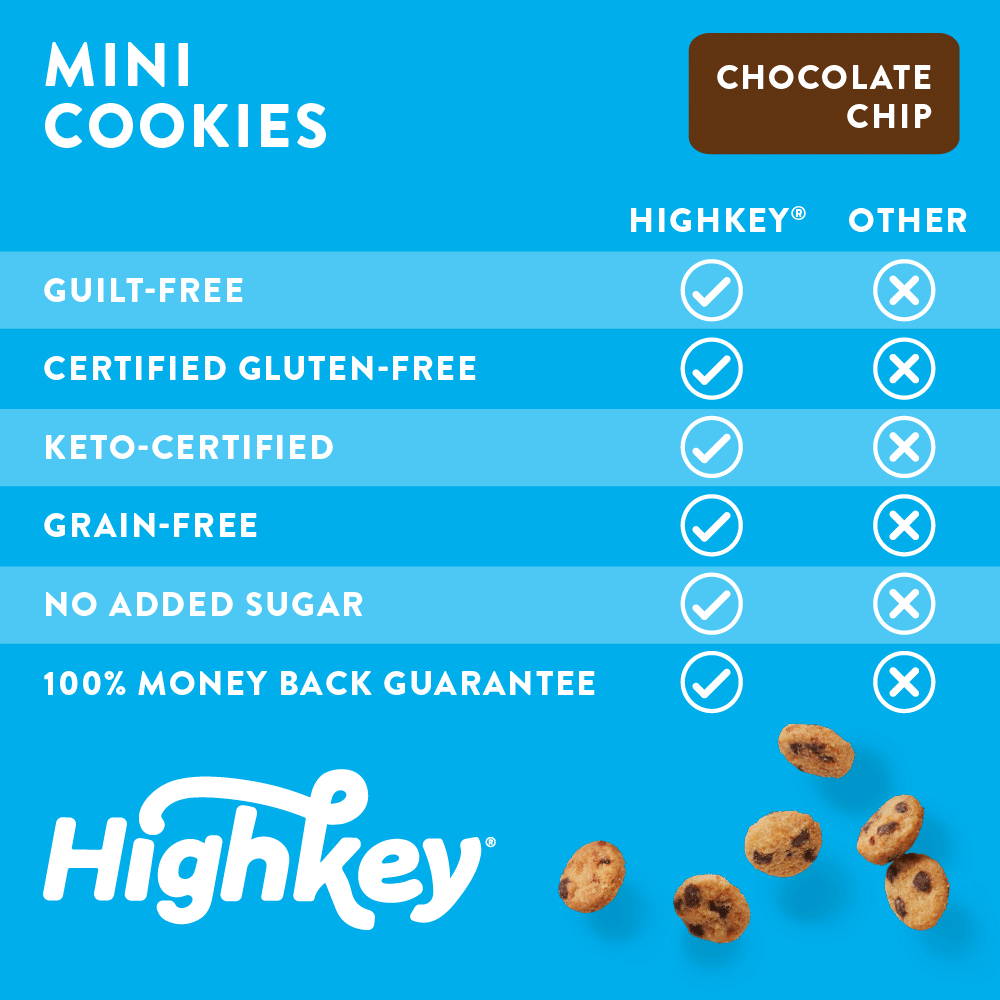 Ingredients

Almond Flour, Sweetener Blend (Erythritol, Monk Fruit Extract, Stevia Extract [Steviol Glycosides]), Coconut Oil, Butter (cream [milk]), Dried Whole Eggs, Inulin (from Chicory Root), Natural Flavor, Stevia Extract, Monk Fruit Extract, Baking Powder (Monocalcium Phosphate, Tapioca Starch, Baking Soda), Hydrolyzed Collagen, Guar Gum, Xanthan Gum, Salt, Cocoa Butter, Sunflower Lecithin.

Contains: Eggs, Milk, Almonds

*Net carbs are calculated by subtracting total fiber and erythritol from total carbohydrates.

MINI COOKIES: DOUBLE CHOCOLATE BROWNIE
MINI COOKIES: SNICKERDOODLE
CARAMEL CLUSTERS: MILK CHOCOLATE PECAN
There's never been a better time
to join us in canceling sugar.
GET 10% OFF YOUR FIRST ORDER
100% Money-Back Gaurantee
Refer your friends and earn rewards!
Please log in or sign up to use the referral program.